Location & arrival
Holidays in the most beautiful part of South Tyrol - Merano & environs and Val Venosta
Enjoy a premium holiday in the west of South Tyrol - in Merano & environs and Val Venosta The village of Naturno, home of the three Dolce Vita Hotels Feldhof DolceVita Resort, Hotel Lindenhof and Hotel Preidlhof is located in the Burgraviatois, only 25 km from Merano. The village of Laces near Merano, where the Dolce Vita Hotel Jagdhof is located, is less than 10 kilometres from Naturno. The Dolce Vita Hotel Alpiana Resort in Lana is just under half an hour's drive from Naturno. There are a total of five wellness hotels to make sure you have a wonderful stay in South Tyrol. South Tyrolean hospitality, a host of extras and great deals such as the Give Me Five programme turn your holiday in the finest wellness hotels in South Tyrol into a unique experience.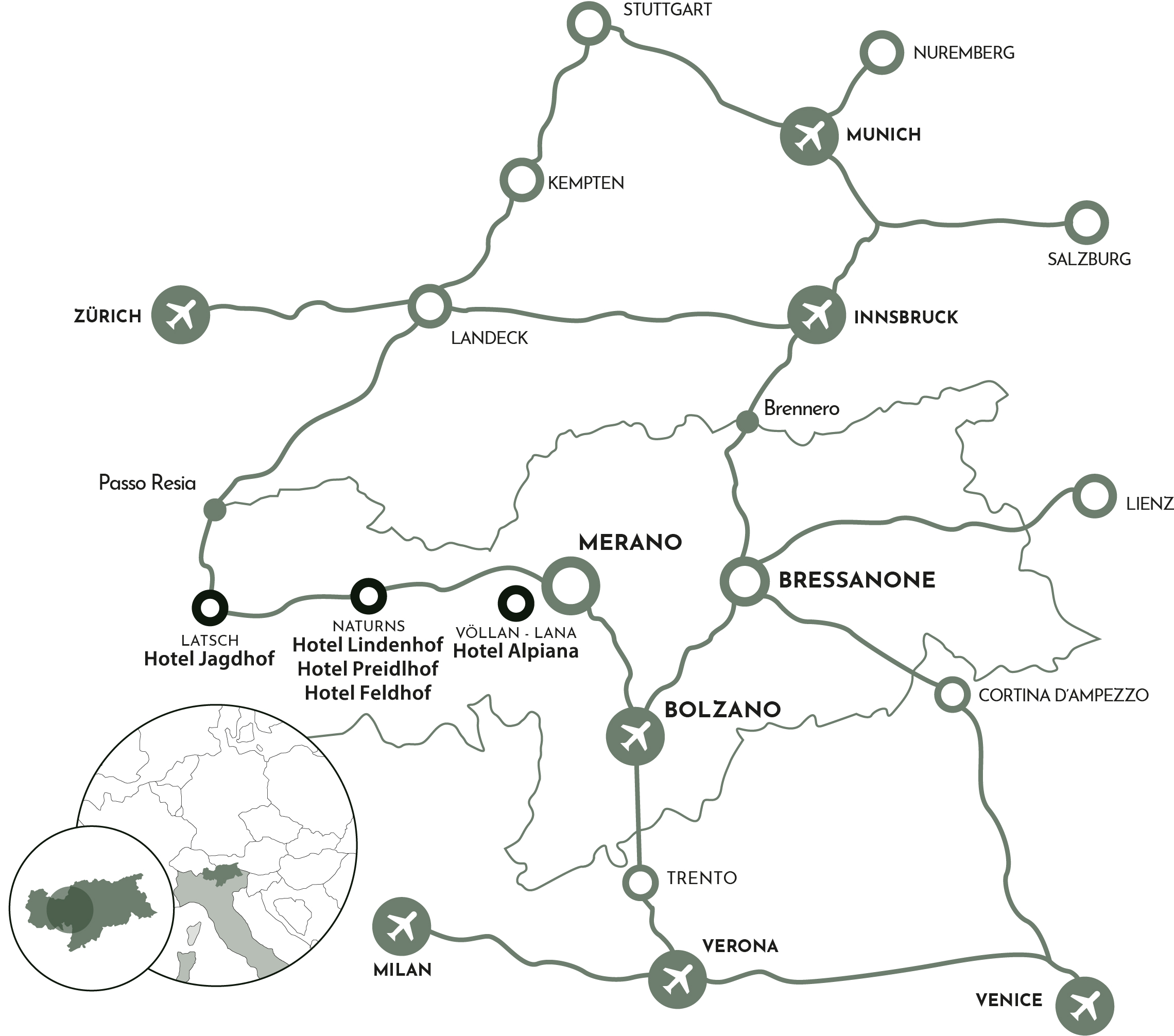 NEW - direct flights to South Tyrol - Bolzano
Location of the DolceVita Hotels in Merano & environs and Val Venosta
The landscape in Merano & environs is a combination of austere and enchanting beauty. While the warm breezes and radiant sunshine caress your skin in the valley, the mountains bordering the peaceful valley have challenged people's fortitude since time immemorial. South Tyrol's desire to make the most of life has never wavered, though, which is why there are so many ancient heritage sites and tourist attractions to visit close to the Dolce Vita Hotels in South Tyrol. Don't miss the opportunity to admire the oldest frescoes in the German-speaking world. Discover this hidden gem in the small, unassuming Proculus Church in Naturno. Castel Coira, Castèl Tirolo, the spa town of Merano, the Foiana Farm Life Museum and the Monte Maria monastery are just a few kilometres away from your holiday resort. The Mediterranean climate of the southern Merano not only attracts sun worshippers and culture vultures, the town is also popular with the locals! Dolce Vita guests will also love the provincial capital of Bolzano with its Italian-Mediterranean flair, perfect for exploring the town on leisurely shopping tours!